---
The Growling Splash Monkey Is on Sale NOW .
You can Buy our CD From us
or Selected Music stores.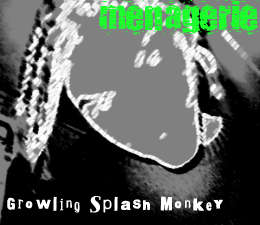 Webpage Feed back Form
---
News/Gig's
21-05-2001-Menagerie dose not have a new drummer, it was all lies. =)
12-04-2001-Menagerie are moving server's with a complete new web site soon so keep checking for updates....
23-03-2001-Menagerie are writing heaps more songs for your listing pleasure so keep turned because there will be a new Ep coming out within the next Few months...
20-03-2001-The menagerie web site has been down a week sorry for any inconvenience, we also would like to thank the organizers at parks for the hospitality and for putting on a sic gig. I must say that staying at the PCYC was Hell Fun... :)
19-02-2001- Well Another gig finished for 2001, thanks to the organizers at Bathurst uni but not much of a thanks to the crowd except for likwid and Black dawn..
13-02-2001-Thanks to all at BTTG and for the ppl that supported us there.. also to the girls at the front row that knew the words to our songs.

3-01-2001-All new gigs at the Maroubra Junction 27th january with ,kyser ,3 point tilt, & enter 6, + Back to the Grind in dubbo on the 10th february Dubbo Civic Centre with ,twenty-two , davola, dogsalmon, Likwid , ultranoise & DJs all day plus many more, + Newcastle Back to the Grind at the Palais Royale 23th feb.

14-12-2000-All new Spoonfest Pics so go and check em out.

20-11-2000-Menagerie are at number 1 on Ozrock.com With Haunted and Non-Believer is coming up to the top ten.....Thanx to all that helped make this happen also check out the updated Bio's section...

13-11-2000-Up and Coming Gig's "2-12-00 Spoonfest Forbs" "9-12-00 Apex Xmas Party"

7-11-2000-Menagerie will be playing at Spoonfest on the 2nd of Dec
you can go to the offical web site and find out more info at http://spoonfest.westserv.net.au/

31-10-2000-We will be recording a few new songs in two weeks so keep checkin the mp3's..
Also the "Growling Splash Monkey" is still for sale and only $7.

28-10-2000-Check out all the new Photo's added in the Photo's section Loads of new Pic's

26/10/00-Menagerie will not be playing at the parks festival because
we were 50ks to far and they invited to many bands, we told them we would play for free
but that was not an option.

19/10/00-Non-Believer is in the top 10 at Number 6 and going up....
Haunted is in the top 40...

13/10/00-Menagerie is now on Ozrock.com So Go there and listen to some of our
songs and get us in the charts thanks.....